Pupusas

Sopas

Platos Típicos

Comida Mexicana

Y MUCHO MÁS!
Pupusas
Queso, Frijol con Queso, revuelta, Chicharrón, and much more!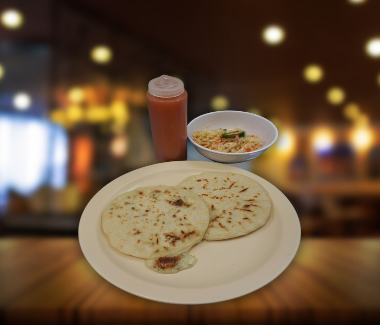 Desayunos/Breakfast
Platanos, Casamiento, Tamales, Huevos con Chorizo, and much more!
Sopas/Soups
Sopa 7 Mares, Sopa de Pata, Sopa de Gallina India, and much more!
Mexican Food
Tacos, Burritos, Quesadillas, Tortas, and much more!
56 Dishes Available
Made fresh!
Google Review!
"Honestly, one of the best tasting and well presented Salvadoran restaurants in town! A jem owned by an amazing family. Food was well seasoned. The guy who serviced us was very kind and helpful. Also offered refills and thoughtful if we wanted extra. Delicious and beautifully plated dishes. Portion size and cost of food was good as well. Honestly, no complaints. Must visit! 👍"
- Antionnet Perera